Health Guarantee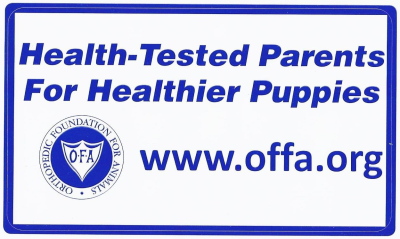 All puppies are 'permanently identified' with a microchip
All puppies will receive bi-weekly de-wormings beginning at the age of two weeks
All puppies receive the first set of vaccinations at 8 weeks of age will
General Health Warranty
Your new pup is guaranteed to be free from all disabling hereditary diseases, illnesses and/or conditions for a period of 12 months from date of whelp.
UDONSTAR LABRADORS does not screen for EIC, PRCD / Eye Disease, but will include such conditions, if disabling under its warranty.
All puppies are guaranteed for 25 months for Hip and/or Elbow Dyplasia. In order to protect your puppy under our hip/elbow dysplasia health guarantee - your puppy must be diagnosed by the OFA as having this condition at 24 MONTHS OF AGE. If your puppy is determined by the OFA to have this disability, you MUST submit the OFA report to UDONSTAR LABRADORS prior to 26 months of age in order to be covered by the health guarantee.
Note:
Udonstar Labradors guarantees every dog to the original purchaser only; all claims must be accompanied by a report from a qualified, licensed veterinarian stating that the abnormality is in no way related to environmental cause, accidents, bites or abuse to the dog.
UDONSTAR LABRADORS provides a full refund or equivalent puppy replacement.
Any refund or liability is limited to the price paid for the puppy.
In order to get a full refund or equivalent puppy replacement, the defective puppy has to be returned to UDONSTAR LABRADORS with all his paperwork.
IMPORTANT:
Hip and Elbow Warranty
Your new pup is guaranteed to be free from hip and/or elbow dysplasia for a period of 25 months from date of whelp.
In order to preserve this warranty you must prevent your pup from becoming obese, exposed to injury or abuse; and if a female, from being bred during the first 25 months of life.
UDONSTAR LABRADORS follows and implements the Orthopedic Foundation of Animals [OFA] guidelines for evaluation and grading of hip / elbow dysplasia.
Puppies sold by UDONSTAR LABRADORS are guaranteed under OFA standards to have hip and elbow ratings of 'Borderline' or better. Please visit the OFA site for complete information:http://www.offa.org/hd_grades.html
Hip / elbow dysplasia is not a fully understood condition. It is believed to be caused by a combination of hereditary (genes), environmental (abuse or injury) and nutritional (food and supplements) factors.
It is a condition that may not appear until after twelve months of age. The OFA permits a evaluation of hip / elbow x-rays after 12 months of age. The OFA will issue a 'preliminary evaluation' on any diagnostic testing between 12 months of age, up to 24 months. This testing is not required, but it will or could provide early evidence of a problem should one be present. It does not rule out the possibility of future dysplasia.
Since the OFA will not provide a 'Final Evaluation' until the pup has been x-rayed after having reached 24 months of age, UDONSTAR LABRADORS provides one additional month, 25 months, for each buyer to have their pup's hips and elbows x-rayed, submitted and evaluated by the OFA. The x-ray must not be taken before the pup reaches 24 months of age to be treated by the OFA as a final evaluation.
UDONSTAR LABRADORS will accept only the findings of the OFA as conclusive as to the condition of the dog's hips and elbows, and those findings must be presented to UDONSTAR LABRADORS no later than the end of the 25 month period.
Failure to have the OFA evaluate your dog's hips and/or elbows during the first 25 months since whelp, voids any further warranty by UDONSTAR LABRADORS with respect to problems that may exist with your dog's hips / elbows.
Since the presence of radiological evidence of dysplasia does not itself indicate disability, there must documented evidence of disability, lameness or physical limitation submitted by a qualified veterinarian along with a rated finding of dysplasia in any dog sold with CKC registration.