Ginger is retired now but she is grandma to many of our puppies.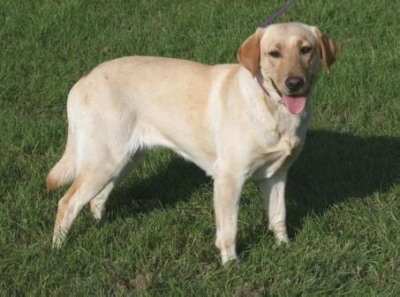 Ginger is a 55lb yellow Lab female from an excellent pedigree which combines Working Show lines with Field lines. Her father, Runner, is a very accomplished dog who has his Conformation Championship, his Obedience Trial Championship, his Working Certifcate Excellent, and his Master Hunter. Her mother, Hayley, is a very gentle dog who is a great family pet but also has good hunting and retrieving desire and has her Working Certificate and American Junior Hunter. Ginger is a small compact girl who has some great traits from both of her parents. She is very loyal, sweet, and affectionate and loves to follow you around and give kisses, especially on the back of your legs as you are walking. She is energetic and athletic and has good retrieving drive but is not a crazy dog to have around. We hope to work with Ginger in the field next summer. Her puppies are suited for active family pets, agility dogs, or hunting dogs.
| | |
| --- | --- |
| DOB: June 16, 2008 | OFA Hips: Good LR-188403G24F-PI |
| Colour: Yellow | OFA Elbows: Normal LR-EL47898F24-PI |
| Weight: 55lb | CERF: LR-57026 (Date Examined: June 3, 2010) |
| CKC: #UL221208 | CNM: Pending |
| | Exercise Induced Collapse: #LR-EIC398/5F-VPI |
Pedigree for Prairiestorm Ginger "Ginger"
Sire
OTCH CH Bigsky's Sun Runner WCX MH

Sire
CH Ravencliff's Beaumark Touch CD WCI JH

Sire
BIS CH Willowrose Gimme A Break

Sire
CH Euckud's Beaumark CDX WC

Dam
Willowrose Edge of a Dream CD

Dam
CH Ravencliff's Date with Destiny

Sire
CH Beechcroft Beautawn Tango WC

Dam
CH Breton Gate Willowrose Magic CD WC

Dam
CH Bigsky's Sunshine Nellie CDX WCX SH

Sire
BIS CH Snowyriver Bouldnaire Ruler CDX WC

Sire
CH Autumn's Thunder Vision CD

Dam
CH Bouldnaire Braemar Breeze

Dam
CH Whitemouth Shadow Dawn WC

Sire
CH Maplekrest Kelly Lewis

Dam
CH Maplekrest Autumn Mist

Dam
Luterviles Hayley of Pine WC JH

Sire
UH HRCH Running Deer Le Mulle Grande

Sire
HRCH Moon River's Yankee Major

Sire
CNFC CAFC Call Me Mr. Independence

Dam
MHR-WR Moonriver's Cash Kates Choice

Dam
HRCH Running Deer Black Ink Spot

Sire
FC-AFC Wilderness Harley To Go

Dam
Van Lee's Miz Liz

Dam
HR Lutervilles Witchwood Sammy

Sire
CH HRCH Whistlers Elwood Blues

Sire
UH HRCH Moulton's Golden Rebel

Dam
U-CDX Whistlers Josie Black

Dam
HRCH Whistlers Winterwitch Willie

Sire
HRCH Tomas Michigan Tyke

Dam
Palmer's Golden Nugget